So the big joke of the week is... our Pekin ducks are not Pekin ducks at all.  They are Indian Runners!  I think I subconsciously knew it, but since the clerk at the feed store told us they were Pekin ducklings (and all ducklings basically look the same to us), I believed her.  We have raised Indian Runners in the past and they have a very distinct look.  They have a much more upright stance than other ducks and are very slender.  They typically "run" rather than waddle.  Pekins are short, stocky and very white.  Like this: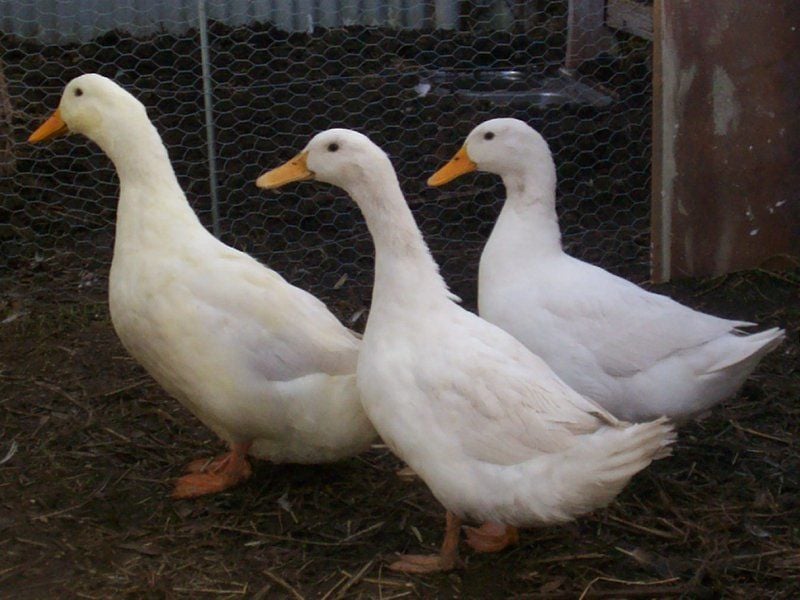 And here are adult Indian Runners: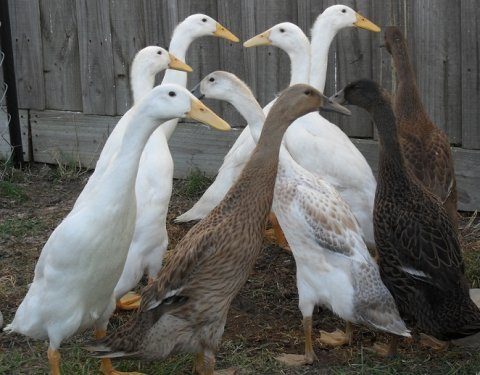 Very different body shapes!  And here are my ducks:
Definitely cute, but definitely not Pekins.  Look at those long necks!  Ever since their adult feathers started coming in, I have been waiting for them to turn a brilliant white.  At first I thought their belly feathers looked tan because they were dirty.  But they stayed like that and the tan spot started getting larger, especially on Lou, who we believe is a male.  Finally the other day, my husband said that he looked it up and he thinks they are Indian Runners.  As soon as he said it, the light bulb turned on and I had a "duh" moment.  Of course they are Indian Runners!  I would have figured it out sooner, but since the lady told me Pekins, my brain was set on Pekins.  I couldn't see what was actually right in front of me.
I think there is some moral to be learned here, but I'm not eloquent enough to put one together.  Basically, we shouldn't trust everything people tell us.  While there are experts that we should be able to trust to provide us with correct knowledge, we should also be open to doing research, exploring, and thinking for ourselves.  These are key concepts that I want my daughter to learn, so I am glad for this little reminder.
Shared on the Our Simple Homestead Blog Hop.