Welcome back to Hump Day Give-A-Way!  I'm glad to be back in the routine after the bit of traveling I did.  I have a really cool artist to introduce to you today - Mona of Mona Does Concrete.  While cruising Etsy, looking for awesome stuff to share with you, I saw these concrete coasters with fun bike designs on them.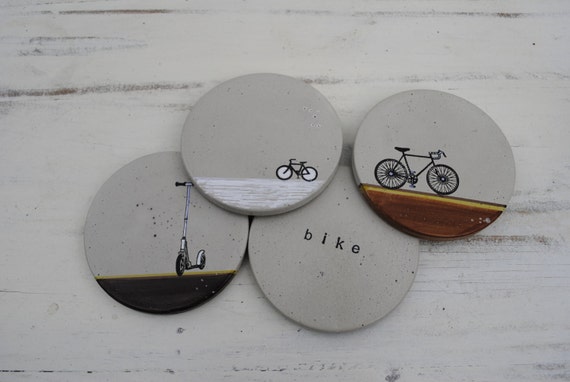 Concrete?  Did I say concrete?  Yes.  These are 4" hand poured concrete coasters, sealed with olive oil, and backed with corked.  Wouldn't you love to have these sitting on your coffee table?  What a conversation starter!
After admiring the coasters, I read Mona's About page and was really impressed with her philosophy and the process behind the items that she makes.  She strives to use green, eco-friendly materials and to think about the impact of what she is making and doing.
I then checked out the other items and saw this happy looking trivet, which can also be hung on a wall.  Doesn't it make you smile?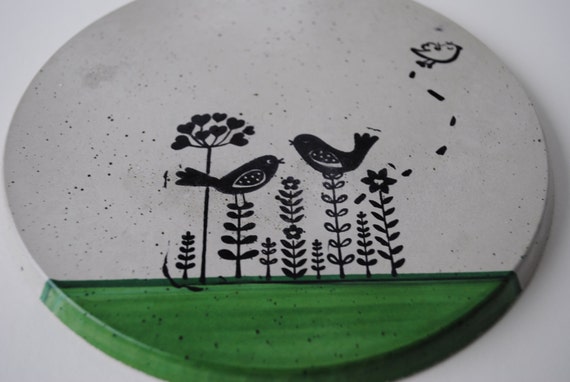 The winner of today's Hump Day Give-A-Way contest will win ONE of the above - either a set of 4 concrete coasters or one concrete trivet/wall hanging.  To enter, simply leave a comment below.  Unfortunately, this contest is only open to my readers located in the United States (sorry Asparagus Pea - I know your love of concrete!)  The contest is open now until Friday, May 30th, at 7am.  Make sure to stop by Mona Does Concrete on Etsy to see her other designs!
CONTEST CLOSED