If you are trying to reduce the amount of plastic in your life, but like drinking your smoothies, natural sodas, or milkshakes with a straw, this is your lucky day!  Today's Hump Day Give-A-Way is for two green colored, green eco-friendly, glass straws.  Yes, glass drinking straws!  When I first heard of glass straws, I was amazed - what a cool concept.  The straws are made in Orgeon by Carli, who sells them on Etsy at StrawbyCarli.  They are made of borosilicate glass, which is very strong.
I like drinking my smoothies with straws.  They just taste better when I drink them through a straw rather than out of the cup.  Plus, if the smoothie is thick and full of good stuff like flax seeds and coconut, it threatens to all pour out at once when you drink it.  A straw is just much easier.  I used to save the straws from our Starbucks iced chai lattes, which are also green, but they are just posing - these are the real deal.  I don't like the idea of reusing the cheap plastic multiple times, so a glass straw is a great invention.  Plus it is easier to clean - those plastic straws get a little gunky after a couple of uses!  These StrawsbyCarli are dishwasher safe. 
Here is my little interview with Carli:
-How did you get started working with glass?

I took a beginner's fusing class in California. Within the year I moved to the Portland area of Oregon, which is where a lot of the art glass used today is manufactured. I took a class at Bullseye glass and fell in love with manipulating glass in the torch. 

-What inspired you to start making glass straws?

I wanted to do something with my environmental science major, and I also wanted a way to stay connected and productive as a Mom, when I had my son in 2007. I had started playing with borosilicate glass by then, which is the glass used in my straws, it is a lot sturdier than soda lime glass. Borosilicate is basically Pyrex. So I had glass tubing and I just started making straws with them.

-Are the straws made from recycled glass and if so, where do you get your material?

Sadly, the straws are not made with recycled glass. without getting too technical about it, different glass cools and heats at different speeds, and combining different glasses can cause stress within things that are made of glass that cannot be relieved. I need to be absolutely certain of what glass I am using to make straws.
Along with the straight straws that come in assorted colors, Carli also makes bended straws like these.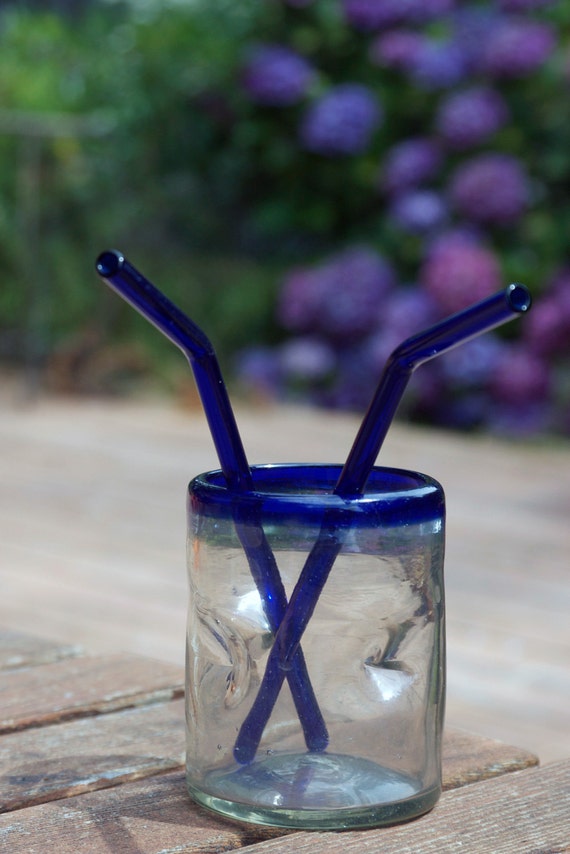 (Above photo courtesy of strawsbycarli.)
For a chance to win these two 8" glass straws, please leave a comment below.  Two earn a second chance at winning, hop on over to Facebook and "Like" Life With The Crew.  The contest is open now until Friday, March 21, at 7am.  I will assign a number to each comment and randomly draw a number, which will be announced by Saturday at noon.  Stop by StrawsbyCarli to see the assortment of colored glass straws that she makes.
CONTEST CLOSED