All dog lovers - sit, stay, and comment today!  The give-a-way item today is one quick snap dog collar in a 3/4" or 1" width from Fairy Tail Collars - "Because Every Tail Should Wag Happily Ever After".  What a great motto!  Fairy Tail Collars is a mother and daughter team and they own several rescued animals.  They make durable and attractive dog collars and leashes that they sell on Etsy.  Along with the traditional quick snap collars, they also offer the hard to find martingale style.  These work great for dogs that tend to back out of their collars.  I have used this style with all of my rescued dogs and foster dogs.
Fairy Tail Collars offers a huge selection of ribbon trims - fun, whimsical, nautical, traditional, they have it all!  And if you don't see just the right collar on their website, they will custom make one for you with your choice of webbing color, trim, and size.  The quick snap collars are available in three different widths and are made with heavy duty, custom hardware made in the USA.  
I bought these two collars from Fairy Tail Collars several years ago and they are still in great shape.   I bought the modern flower pattern in a martingale style for our Corgi, Ruby, who tends to get very excited when she sees other dogs.  When we first adopted her, she almost slipped her lead several times, so we needed the martingale style.  The "black sheep" collar we bought in the quick snap style for our Corgi, Callie.  Callie is a tri-color Corgi and all of our other Corgis are red and white, so she is the "black sheep".  Now she is 12 years old and doesn't leave the yard, so we do not keep a collar on her anymore.  Lola was nice enough to model for us .  (Disclaimer - Lola did receive treats as compensation.)
These are some of my favorite styles from Fairy Tail Collars.  (The following four photos are courtesy of Fairy Tail Collars.)
Love these whimsical folk art style birds.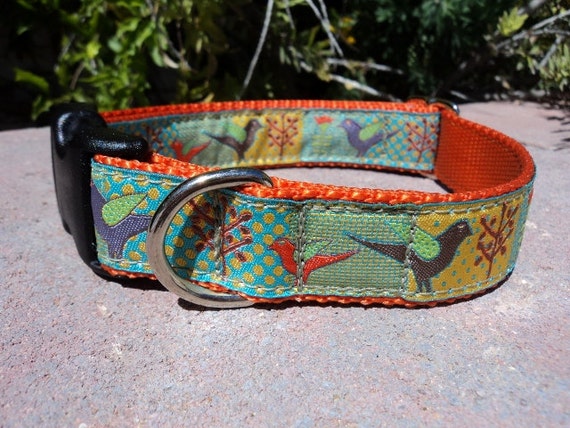 For the tree hugger's dog.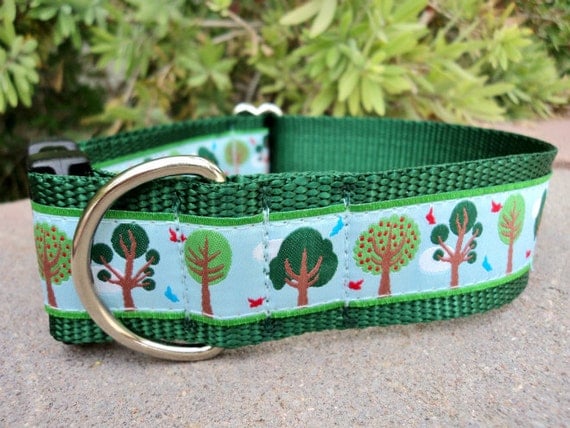 A collar for each season?  Here is one for Autumn.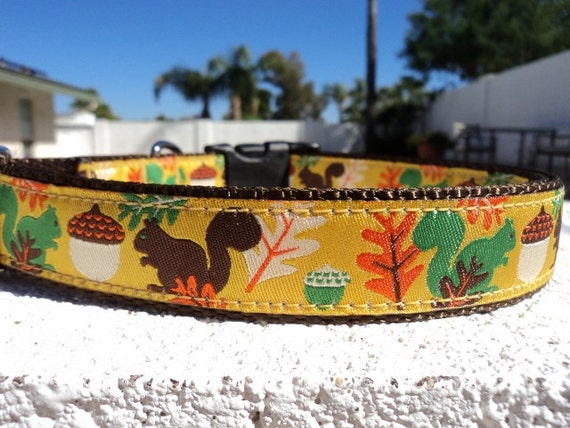 For the dog who has dreams of a tropical beach.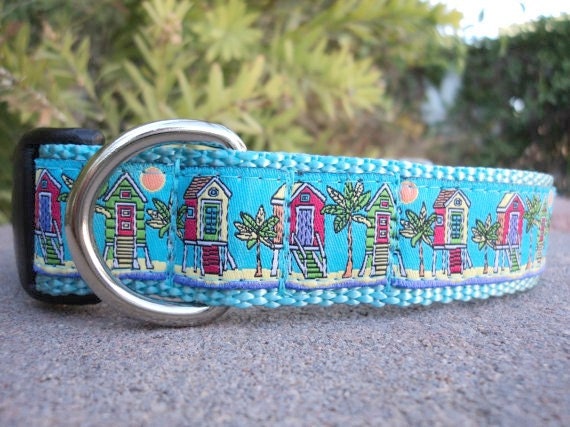 For your chance to win one quick snap collar of your choice in the 3/4" or 1" width size, please leave a comment below.  I will assign a number to each comment and randomly draw a winner.  Contest ends at 7am on Friday, January 24th.  The winner will be announced by noon on Friday.   The winner will contact Fairy Tail Collars through Etsy to place their order.  Please note that if you live outside of the United States, you will be responsible for shipping costs if you win.

CONTEST CLOSED
AND THE WINNER IS...
#2 so BG is the winner!  (I start my numbers from the top of the list.)  Since this was a heated contest, I wanted to  have proof that it was done fair and square.  My little babe was thrilled to actually have me hand her the dog bowl instead of taking it away from her.  I had to chase her around the chair to get her to pick just one!